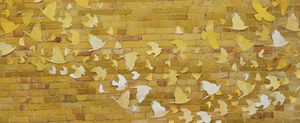 JOIN US AS WE COMMEMORATE THE 10TH YEAR ANNIVERSARY OF THE
See Me was conceptualized in 2013 and presented in 2015 to raise awareness about Missing and Murdered Indigenous Women and Girls (MMIWG) across Canada.

Produced by Mandi Fields and in collaboration with Ojibwe artist Sean Couchie, Atlohsa Family Healing Services, Tamara Bernard, Indigenous Services at Western University, and with Tania DeJonge as the creative designer, we presented an art installation featuring over 2,000 gold birds. These birds symbolize the thousands of MMIWG.

Sean Couchie created Broken Circle (photo on the right), which served as the initial inspiration for the Gold Birds.
Sean Michael Couchie is a self-taught artist who has had an interest in art since early childhood and later formalized his craft with a degree in Advertising Art from Fanshawe College in 1991. Sean is a member of the Nipissing Band of Ojibways. He considers winning the Peace Hills Trust Native Arts Contests in 1992, 1996 and again in 2002 as major contributors to his success as a First Nations artist. In 2007, the Bravo and APTN networks aired a documentary entitled "From the Spirit" featuring the life and works of Sean Couchie. In 2015, Sean was a key contributor in a collective effort to raise awareness of Missing and Murdered Indigenous Women and Girls (MMIWG). It was then that the See Me art exhibit was permanently installed at Atlohsa Family Healing Services. Sean's "Broken Circle", features gold birds, each representing and honouring the missing and murdered women and girls across Turtle Island.
Sean is an artist and illustrator who enjoys a diversity of different media, working in oils, acrylics, graphite, airbrush, pen and ink, scratchboard, and woodburning for his work. He makes his home in London, Ontario with his wife and two daughters.