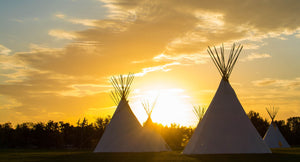 Now offering Training Modules for Non-Profit & Social Service Sector
Giiwitaabiwag: Cultural Safety Training
As a result of the Giwetashkad Indigenous Homelessness Plan, this cultural safety training was developed and is being offered to service providers in London's housing and homelessness sector. The goal of the program is to inform and improve relationships with partner agencies so that Indigenous peoples who are experiencing homelessness can have better, more culturally relevant intakes and assessments in the community.
Giiwitaabiwag is Anishnaabemowin (Ojibwe language) word and concept that can be translated to "returning to sit in a circle."
For more information, please contact giiwitaabiwag@atlohsa.com
Indigenous Training Series
Join us by registering your organization for a training module!
We are offering a training series to build capacity for homelessness services providers to work more effectively with Indigenous peoples and to adapt services to meet their needs. Together, we can ensure that London's homelessness & housing services are culturally safe and responsive spaces for Indigenous peoples to access the support they need.
Our training sessions utilize Indigenous approaches to learning such as interactive discussion, relationships building, and exposure to cultural teachings. All sessions are designed for leadership and for frontline workers.
Sessions are available in-person at Atlohsa's Head Office, or remotely via ZOOM with a fee starting from $500.00, with minimum of 8 participants to a maximum of 15 participants per session.

Organizations may book multiple sessions. We recommend that learners pursue modules in order, for the most fulsome benefit of information
provided.
Note: In-person sessions will follow COVID-19 health and safety protocols (screening, contact tracing, distancing, masks).
MODULE 1
Definition of Indigenous Homelessness

In this training, participants will:
- Review history of Indigenous Homelessness in Canada.
- Explore Indigenous concepts of home & belonging
- Commit to a decolonized understanding of "homelessness"
- Describe the 12 Dimensions of Indigenous Homelessness
MODULE 2
Culturally Safe Care in Homelessness Services
In this training, participants will:
- Gain understanding of settler colonialism and cultural safety in homelessness services
- Examine how our personal identities impacts relationship building with Indigenous peoples
- Explore colonial trauma-informed approaches in homelessness services
- Create an action plan to pursue culturally safe services in your workplace.
BOOK A SESSION TODAY
Fill this form with your inquiry and the Giiwitaabiwag team will guide you through the registration process via email.
Support Indigenous Community
As we educate more service providers in our community, our Indigenous community members have better access to culturally relevant services in our community. Please support this good work by giving today.