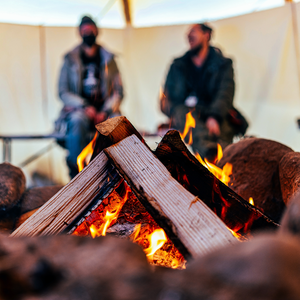 The Giwetashkad Community Fire is a space for service providers working in London's homelessness sector to learn about Indigenous harm reduction and healing practices, build relationships, and increase their skills for working with Indigenous peoples. Community fires are one component of a larger strategy to build capacity within homeless-serving programs to deliver effective, culturally safe care with Indigenous peoples experiencing homelessness.
Learn more about Atlohsa's Giiwitaabiwag Cultural Safety Training for service providers.
What a great question! First Nations, Inuit, and Metis peoples use fires as part of spiritual ceremonies and these practices vary across Canada. This is not a spiritual or ceremonial fire where specific protocols apply. It is a community fire where ALL are welcome regardless of their cultural knowledge. We will be singing, sharing, talking, learning, and networking at the fire. While at the event, we will have a firekeeper, smudge, and cultural items. Staff will guide you through how to smudge if this is something you'd like to do. Questions are highly encouraged!
Our team puts this event together for service providers in the homelessness sector and for our Indigenous relatives who are unhoused. It is a drop-in style format so folks can stop by according to their own schedules.
If you know other service providers working in the field or are working with an Indigenous participant you would like to bring, sure!
Of course! This event is open to all people, Indigenous or not. In fact, if you are non-Indigenous, this event is FOR YOU! The purpose of the community fire is to build relationships across our diverse experiences so that we can support Indigenous community members experiencing homelessness more effectively. We welcome the opportunity to get to know you!
Find a comfortable spot in the teepee, grab some snacks or refreshments, and visit & network with your counterparts. You will be welcomed and oriented to the space by Atlohsa staff.
It's very normal and okay to feel a little nervous if this is a new experience. We learn new things by venturing out of our comfort zone. It is our intention to make this a welcoming experience for all who attend, and especially those who might not have been to a community fire before. Feel free to email us before hand with questions or just to meet a friendly face, at giiwitaabiwag@atlohsa.com.
This event runs rain or shine, sleet, or snow. Please dress according to weather and your comfort level. 
Any Atlohsa staff. We can be identified by name badges. Before attending the event, you can
direct questions to giiwitaabiwag@atlohsa.com.