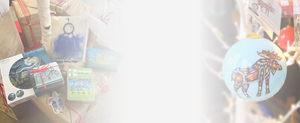 Shop gifts that make a difference for anyone in your list!
Shop from Oscardo, Native Northwest and Monague to beautiful hand-crafted local designs.
GIFT CARDS
Want to give to your loved one but unsure where to start? Let them choose their own gifts with our E-Gift Cards. They can be spent in-store or online, making it super easy for your loved ones to choose their gifts!
SHOP GIFT CARDS
ORANGE SHIRTS AND MORE
Reconciliation is more than September 30th. Consider giving a gift that shows your commitment to reconciliation year round.
SHOP ORANGE SHIRTS
Earrings
Explore a wide variety of designs including birchbark, sterling silver, beads and leather. All handmade with love by Indigenous artists.
Shop Now
Home Décor
Home sweet home. Nothing makes a house more a home than these Indigenous designed products. Stylish, unique, and infused with history, these items enhance the beauty and comfort of your surroundings.
SHOP NOW
Accessories
Find this season's most wanted accessories for him, her, and them. Crafted to enhance, bring fun, and good vibes, our accessories will have you holding your head high with pride as you adorn these distinguished and tasteful additions to your already great sense of style.
SHOP NOW