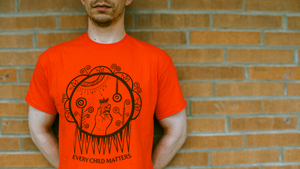 TOGETHER WE
CAN RELIGHT THE
FIRE OF HOPE
Relighting the Fire of Hope is an initiative created to inspire awareness, action and change
Together we are relighting the fire of hope for all generations, past, present and future.
In this year's Relighting the Fire of Hope campaign, we are embracing the power of knowledge and truth as we continue our journey towards a future of equality, understanding, and respect for all Indigenous peoples. Our new slogan, #WearOrangeSpeakTruth, carries the conviction that wearing orange is not just an act of support, but also a commitment to learn, understand, and vocalize the truth about Indigenous history, experiences, and aspirations.
This year, we are relighting the fire of hope, not just through our shirts, but through our voices and our commitment to learning. We believe that each of us has a responsibility to recognize the truth, share it, and take part in rewriting the narrative for Indigenous peoples. We are encouraging everyone to join us - to educate yourself through our dedicated resources, to listen, and to amplify Indigenous voices.
Join us in wearing orange, delving into the heart of our rich and complex histories, and speaking up to share these truths. Our mission, now more than ever, is to inspire every person to step up, speak up, and act to end racism, helping to forge a culturally safe community where Indigenous peoples can thrive. It's a journey we all need to undertake together - Indigenous community and allies alike.
Co-created by the community for the community
Relighting the Fire of Hope is a proud collaboration involving the efforts of community friends, partners and supporters. We are privileged to have such exceptional individuals and organizations working with us to inspire awareness and foster change for a stronger, healthier future.
Artist Stephen Maracle
Stephen Maracle (pictured left) is a self-taught First Nations artist from the Mohawks of the Bay of Quinte, Tyendinaga. Raised in London, Ontario, Maracle's journey started from childhood, evolving through practice and an Acrylic Painting course at Fanshawe College. His artwork, proudly displayed at Gallery Indigena, Atlohsa Gifts, and in murals across London, pays homage to his culture.

Reflecting on the inspiration for this year's design, Stephen shares, "I was profoundly moved by a story shared by my co-worker, Biine Elijah (pictured right). Biine recalled a heartwarming memory of children joyously showcasing a raspberry bush and strawberry patch on Manitoulin Island. This joyous experience, denied to children in the residential school system, along with the symbolism of the strawberry, formed the basis of this year's design."
ATLOHSA STAFF
Our devoted team at Atlohsa Family Healing Services are the backbone of our campaign. We sincerely appreciate their dedication, especially those directly serving our community members.
COMMUNITY COUNCIL AND ADVISORS
Our Elders, Knowledge Keepers, and teachers have generously shared their wisdom and support this year and in previous years, making a significant impact.
Re-strengthening Indigenous communities together
Every shirt purchased or donation received significantly impacts the lives of individuals and families affected by the tragic legacy of residential schools.
These proceeds directly fund Atlohsa Family Healing Services' programs, providing crucial aid to those affected by impacts of residential schools and colonization. Atlohsa is dedicated to offering holistic, low-barrier services, ensuring community members access the resources they need for balanced living - physically, mentally, emotionally, and spiritually.

For over three and a half decades, Atlohsa has been a pillar of strength for the community, rolling out a range of programs and services designed to foster resilience and wellbeing. In the past year alone, we have extended our support to over 5,000 participants from nations all across Turtle Island. Many of these individuals grapple with complex issues, including mental wellness concerns, substance abuse, homelessness, domestic violence, and trauma.
What are the origins of Orange Shirt Day?
In 1973, six-year-old Phyllis (Jack) Webstad bought a shiny new orange shirt to wear to her new school, with the little money her and her Grandmother had. On her first day of school at St. Joseph's Mission residential school in British Columbia, school officials took away her clothes, including her new orange shirt, as a measure to strip her personal identity and sense of self-worth. Her orange shirt was never returned.

September 30th has been declared Orange Shirt Day in support of Phyllis' story and her work to raise awareness. On this day and every day, we honour those who survived the residential schools and to remember those who did not. We acknowledge that Every Child Matters. It is an opportunity to create meaningful discussions, to build awareness of the legacy and lasting impacts of residential schools and to inspire action, hope and healing.
ABOUT ATLOHSA
A non-profit, charitable organization, Atlohsa has been serving individuals and families across Southwestern Ontario providing low-barrier wraparound services to community members with complex needs, including mental wellness, substance use, homelessness, domestic violence, and trauma. We specialize in providing strengths-based healing and wellness supports utilizing trauma-informed and harm reduction approaches.

Learn more
Looking for other ways to support?