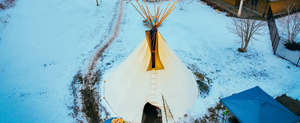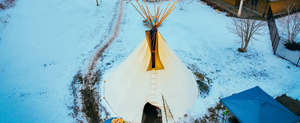 Wiigiwaminaan Winter Response Program
The Wiigiwaaminaan Winter Response Program was launched at the beginning of December 2021 in partnership with St. Joseph's Health Care London and the City of London. The program helps house people during the winter months and is the first emergency shelter in the city to provide access to land-based healing.

The shelter is located next to Parkwood Institute and is uniquely positioned to provide culturally appropriate care for Indigenous people experiencing homelessness. Operating under an Indigenized Housing First model articulated in the Giwetashkad Indigenous Homelessness Strategic Plan, the program aims to prioritize access to land as a critical factor in alleviating Indigenous homelessness.

Warm and safe shelter during the winter months
The Indigenous Winter Response Program is open to individuals experiencing unsheltered homelessness and provides a warm and safe place to stay during the cold winter months. The program focuses on providing culturally relevant support and services to those in need.
Committed to advocating for land-based solutions to Indigenous homelessness
The strategic partnership with St. Joseph's Health Care London and the City of London empowers Atlohsa to provide an Indigenous-led homelessness response that supports land-based programming for Indigenous people.
Help Make a Difference in the Lives of Those in Need
We appreciate the resources and support provided by our partnerships and we invite you to join us in this important effort. If you would like to support the Wiigiwaaminaan Winter Response Program, please consider making a donation today. Your contribution will go directly towards helping Indigenous people experiencing homelessness find warmth and comfort during the winter months.